Introducing the HU Peace of Mind (POM) Initiative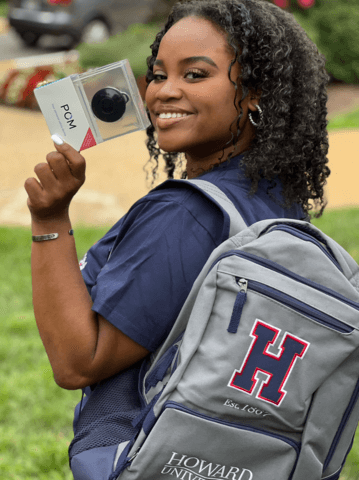 Howard University is proud to offer the POM initiative, a program that will provide students, faculty, and staff with personal safety devices to expand security and safety response in and around the University community.
The handheld devices, which are small enough to be placed on a keychain, allow community members to contact and communicate with campus safety officials in case of an incident or emergency. Enrollment in the program provides officials with a profile of the user and can dispatch support to any location without the use of a personal cell phone or call tower on campus. 
Howard is one of more than a dozen colleges and universities nationwide to become a POM Safe campus, and the largest historically Black institution to adopt in the technology. POM Safe devices are part of the Bison S.A.F.E. campus-wide initiative to ensure that all community members have access to resources that encourage best practices in public health and public safety techniques.
You can pick up your POM daily at the Howard University Service Center (2244 10th St NW, Washington, DC 20001) from 9 a.m. - 4 p.m. Monday through Friday, or you can meet with a POM distributor on Wednesday and Friday from 9 a.m. - Noon at the service desk of the Armour J. Blackburn University Center (2397 6th St NW, Washington, DC 20059).
POM Pick-Up Requirements
Must be affiliated with the University (Current student, staff, or faculty)
Must sign-up with your university email address
POM Frequently Asked Questions
The compact POM Smart Device can be attached to a keychain, put in a bag or pocket. It is made of lightweight, durable plastic and packed with safety features. 
The POM Device has two main button patterns. Triple Tap for emergency help and One-Hold to activate custom features. 
What happens when you triple tap the POM? 
A dispatcher will talk to you directly through the POM. 

The Dispatcher will see precise GPS location and critical profile info details. 
What happens when you hold the POM button for 5 seconds? 
One of the many customizable features will be activated: 
Auto Text- Send a pre-written message with your precise GPS location. 

Auto Call- Initiates a call to a preset contact and sends precise GPS location. 

Fake Phone Call- Initiates an incoming call to the phone, providing a way to get out of a situational threat. 
If I press the button one time by accident, will the police be notified?
No, POM device is designed to avoid false alerts while also being easy to access. 
How long does the POM stay charged? 
Where can I pick up an HU POM?
Your POM can be picked up from the HU Department of Public Safety, located on the second floor of the HU Service Center. POMs will also be available at select distribution sites. 
Does POM only work on Howard's campus?
Professionally trained POM dispatchers are ready to respond and send the right responders to your precise location 24/7, along with communicating critical information that saves seconds at the most critical time. 
HU POM is Howard University property. The university lends POM devices to students and employees until a student user's graduation date or the last day of employment for faculty and staff members. Unreturned devices will result in a $100 administrative account hold until the device is returned or payment is received by DPS. 
What do I do if my POM breaks?
Email hudps@howard.edu or bring your broken POM to the Department of Public Services for a replacement at no cost.  
What do I do if I lose my POM?
Lost POM devices can be replaced for $100.